I had the opportunity to be a part of the first ever Boise State University app-athon this weekend.  Zenware sponsored as well as judged the applications.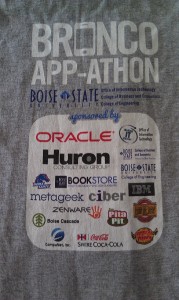 Teams entered the contest to see if student teams could spend 48 hours, starting Friday afternoon at 4 until Sunday at noon.  The goal was to build a mobile application from scratch in the time frame.  The offical rules were that your submission must…
Be a mobile or web application.
Be created by team members entirely between the Friday kickoff and the Sunday deadline

External resources: Participants may use external resources (online tutorials, reference books, feedback from friends, etc.) but all documents, code, graphics and other submitted material must be created directly by team members. For example, a non-team member may give a verbal description of how to create a log-in system, but the actual typing (coding) of said log-in system must be done solely by members of the team in order to eligible for submission.
Third party libraries: Third party libraries are permitted if they may be used freely and are publicly available/accessible by all teams. Generally, we will allow third party libraries that are completely free to use, for example those with an LGPL license. If you are unsure whether using a particular library or framework is allowed, please verify with Bronco App-athon organizers. We reserve the right to reject the use of a third-party library if it would create an unfair advantage over other teams.

Have been created within the Bronco App-athon 2012 location.
It was great to see all of the creative ways students came up with to solve a problem that they saw. One app was built to provide one location for all of the relevant links students need to find on and off campus.  Another was a workout app that used the accelerometer to create a unique workout every time you shake the device, it had a great user interface and the execution was well thought out.  Still another was a replacement for the blackboard app in use today that some feel is in need of improvement.  There was an app that allowed brainstorming at a real-time collaborative level, one for wine connoisseurs and another that created a locker in the cloud for files.
Students took a variety of approaches either web-based or native apps. All apps were developed in groups, except one completed on the Kindle Fire that was done solo, it was a game and it was pretty cool.
All in all it was a great success no matter how you look at it.  The students got the opportunity to show off there creativity, development skills, learn new stuff and meet some other developers, as well as potential employers.  Oh and did I mention the winning three teams got money?  Yup the first place team received $500 each, $300 each went to second and third place got $100 each.
I had a great time talking to the students, faculty and other sponsors and I will be there next year as well.
Rod Puzey
Follow us on Twitter: @zenwaremobile and @zenewareinc
Zenware is a Boise Idaho based company that specializes In custom mobile software development, custom iOS development, custom Android development, ipad software development, iphone software development, custom web development, web hosting and Saas based work order management software.