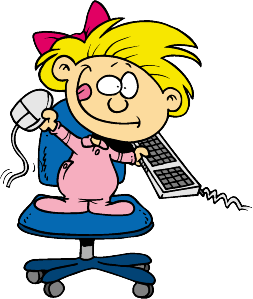 This weekend two of my kids, one 7 and one 8, were on a kids website. I approve of this site, the computer is in the main room and one of us parents is in the room when they are on the computer. I have rules about its use and they follow them, but… I heard giggles and went to see what was going on that was so funny. My youngest said "we are getting into other people's games".
As I investigated what was going on I discovered they were hacking into other kids accounts and playing the games they had access to. Here is how they did it: they randomly chose usernames like cat123 and 123cat. Then they used the same or opposite for the password. They had not just done it once, but had found 4 accounts that they were logging into with the same combination of passwords. They were not doing bad stuff, just playing the games, but they were hacking.
My first impression was "Wow my kids are geniuses!" My second was "Why are people so stupid?"
We forget sometimes that there are people out there who have the intent to get into our stuff. We also make it easy or convenient for ourselves to remember the passwords because, let's face it, we have a lot of them to remember.
So here is the obvious lesson, make sure your passwords are secure and that your data is safe. One way to do this is through a secure web password tool
or something of that nature. There are number of options on the market: KeePass, RoboForm, LastPass, Sticky Password, Passpack and 1Password, to name a few. Sometimes, whether it's out of convenience or just not thinking we set ourselves up for a potential bad situation. Keep that in mind as my kids may not be the ones out there right now and who knows what the next person will come up with.
Rod Puzey – Zenware