Last week our team had the opportunity to explore device options with a customer. At the beginning of our discussion he determined that a laptop was the right solution for his team and was looking for pricing. However, as we discussed the business use of the devices, laptops didn't seem to fit the bill.
Here's what we discovered
All of his team worked in the field
They all work in rugged environments; dirty, dusty, greasy
Workers in the field were comfortable with paper and a clipboard and resistant to adopt technology
Screen readability was a HUGE concern
Device had to work at least 6 hours but preferably 8-10 hours
Device had to support cellular connectivity to synchronize data
Field team must carry these devices with them on the job
We quickly realized after evaluating this list that a consumer grade laptop would fall short of the business needs. Here's our evaluation compared against the list above.
Choosing a laptop may be the right choice. Laptops are portable but does it meet all the requirements?
Consumer grade laptops in a rugged environment? Sure you may only spend $600 – $800 for a laptop but how long is it going to last? I don't know about you but I don't want my laptop sitting on the front seat of my pickup , window rolled down on construction site when a 10 ton dirt mover drives past sending dust and particles everywhere.
With the right application even non-technical personalities can and are willing to use technology. The key is choosing an application that is intuitive and speeds up a worker's process not slow it down. Our discussion thus turned away from the device and more to identifying the right business application for our client's field workers.
While laptops can, with some effort, be used outside it's a horrible experience at best. The screen brightness isn't sufficient to efficiently use a laptop in sunny or even partially sunny days.
While battery life is improving on Windows based laptops they still only provide 3-4 hours on a fully charged laptop.  With that said, the mini laptops provide as much as 8-10 hours of battery life. But, then you have to consider the usability factor. Is the screen real estate sufficient? How will your team adapt to using a keyboard 6-7 inches wide?
Most laptops come with built-in WiFi capabilities which is great if your workers are in a WiFi environment. What do they do for connectivity outside of that environment? The laptops either have to have cellular built-in or you have to purchase additional hardware, a wireless card and cellular service, to provide that connectivity.
Handheld devices are more comfortable to carry than a laptop. Laptops tend to be bulky, and require a place to set them to be able to work on them. A tablet is better because you can use it standing up, but requires the use of a stylus for writing. On the other hand, a handheld computer for use in the field often will have a small keyboard or number pad, but can still easily be carried in one hand or in a tool belt.
It becomes apparent that based on the business use of our customer a laptop was solely a financially based consideration, but not the right recommendation. As we helped our customer explore the true business use of a device it became apparent that a rugged PDA or rugged Tablet PC would be a better solution.
What device or devices did we recommend?
Actually 2 devices
The Psion Teklogix IKON and the Honeywell 7600.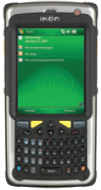 The Ikôn provides a PHENOMENAL screen for outdoor viewing – 3.7 in VGA. We can also configure it with built-in WiFI and GPRS for full connectivity options.  Device is RUGGED rated IP64 meaning 5 ft drops to concrete are no problem. Water proof and dust proof. Device is ergonomically designed. Plus the end of year blow-out pricing of $941 makes the Ikôn a very attractive device
Honeywell 7600 offers similar features GSM and 802.11 to address the connectivity solution. We can also configure this device with what may be the best 2D image scanner on the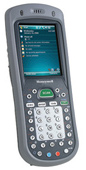 market for barcode scanning. (Adaptus Imaging Technology 5.0) Small ergonomic design makes it comfortable to carry. Priced at $1000 – $1,400 this also make this an attractive device consideration
Both these devices are great options for the customer. One other thing, the right device coupled with the right software package, focused on a smart interface, by our team and user adoption becomes a non-issue.
Question is are you addressing the right issues when you're considering your technology solution?