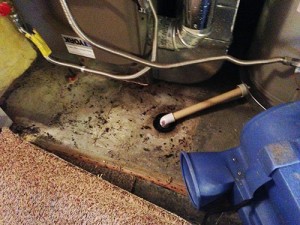 For the 2nd time in 6 months I've called the professionals at Disaster Kleenup. Let's just say weekend plans change when basements start to fill with water. As I write the hum of drying fans and humidifiers drone like the constant white noise of a jet plane about to take off.
When the disaster recovery team came in they were ready for business. The whole time I'm watching them bring in hoses, fans and other equipment two things kept going through my mind. One, I hope insurance covers this. Two, why aren't these guys using mobile devices?
Yep you know the familiar scene, the project lead pulled out the trusty old clipboard, collected my information, asked me to review and sign some microbial and hazardous content documents, then recorded each of the fans and humidifiers that were left behind to dry out my house.
I thought to myself this could be so much easier.
The same team of guys were at my house 3 months ago. How much easier would it have been for them to pull out there mobile device and do the following?
Open a work order
Search for my information by address or name.
See that they had done previous work.
Review that work if applicable
Add me to the work order
Pull up PDF or web based docs that need to be reviewed and signed.
Capture a date/time and signature that I'd reviewed and accepted the documents
Select the type of work from a selection menu
Scan or digitally record the equipment number and starting hours of each piece of equipment being left at my house.
Save all of this information and send directly to the office and insurance claim agent simultaneously
No paperwork, no searching for a pencil, just a mobile device and your fingers.
Equipment Tracking
The importance of proper equipment tracking came to bear when at 11:30 at night I went downstairs and turned off all the fans because the kids couldn't sleep due to the noisy jet stream filling our home.  Turning off the fans is when I noticed each fan was equipped with an hour counter.  Tracking equipment hours  of time on site versus actual time utilized I thought was an important business factor that a service company might want to capture. A service company might choose to charge differently for each of these usage types. Comparing time on site versus actual equipment usage also informs the service company, like in my case, if the customer had turned off the equipment. No I wasn't tampering, I just needed to get the kids to sleep.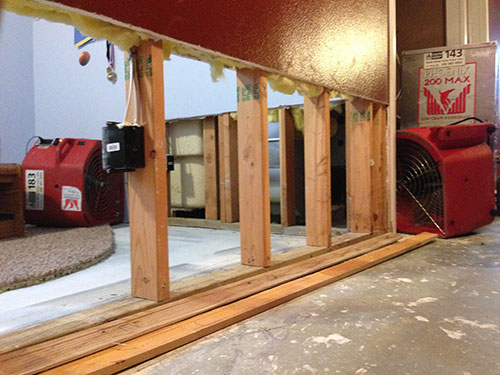 Assigning equipment to a customer location provides another benefit. You know the last known location of that equipment. When's the last time you drilled your service team looking for a piece of equipment?  I know one construction company, Specialty Construction Supply who uses ZenTouch, assigns road signage to construction jobs.  Not only can they charge per hour the signs are on site, they also know where to return for specific equipment if they need to move it to a new site.  This has saved them thousands of dollars in lost equipment.
Past Service Work
When the project lead entered my house he instantly remembered he had done some mold remediation but couldn't remember everything that had been done before.  Needing this information he called into the office to have the dispatcher look up the specifics of the past visit.  While it wasn't specifically relevant to the current job he quickly noted previous work and gave some additional instructions to his team.  How much easier it would have been to open a mobile service app, look up my information and review all service work that had been done previously?
Service Over Time
The project lead is scheduled for a return visit today to see how my basement is drying out.  While my home repairs won't be a large project, it easily could've been.
Having a mobile solution like ZenTouch with the ability to track an open job ticket seems critical to me. A service tech could track each visit, record new work, track hours of equipment usage, time on-site, travel times etc. This would enable a service company to dynamically manage jobs and invoice certain aspects of a job along the way if applicable.
These may seem like little things. But I've learned that the moment you start paying attention to the "little things" and implementing solution to nullify or eliminated their impact not only do you create competitive differentiation but improve your bottom line.

~~~~~~~~~~
Jody Sedrick, CEO
Follow me on Twitter: @jodysedrick and @zenwareinc
LinkedIn Profile: Jodysedrick
~~~~~~~~~~~~~~~~~~~~~~~~~~~~~
Zenware, Inc. is a Boise Idaho based company that specializes In custom mobile software development, custom iOS development, custom Android development, iPad software development, iPhone software development, custom web development, web hosting and SaaS based work order management software. We also have a powerful line up of off-the-shelf mobile cloud solutions; ZenTouch, GlassBiller and ZWarehouse