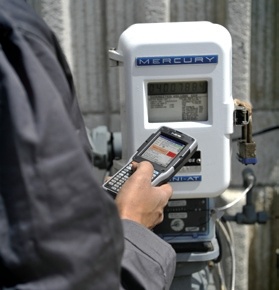 After reading Kevin Benedict's article "Thinking About Mobile Devices for Field Services? Considering what is needed in the field." http://ow.ly/8X3RD, I thought I'd share a few thoughts to further illustrate his point.
In my experience device selection is often severely underrated by many decision makers. They often immediately go to the "soft" devices that are "Free" as part of their cellular service instead of evaluating the true needs of the field worker.  Working environments are a significant factor.
Last year I was at a meeting with a large auto detail professional group. One of the franchisee owners challenged the need to purchase rugged PDAs when the he could simply scan Auto Vin numbers using his Android phone.  I suggested we compare two device features that were important to him on the condition that he had to do both. He agreed.
First test – hi-speed scanning. I pulled out a pre-printed list of VINs on a piece of paper and set up each of us to scan. Using the Psion Neo i scanned ten VINs before he scanned one Vin. I then asked him if he'd like to try scanning again, this time through the window.
Second test – I grabbed the Neo and threw it across the room. I then turned to him and asked him for his device. He wisely put his Android in his pocket and conceded the point that the right device in the right environment is key.
Jody Sedrick
Follow me on Twitter: @jodysedrick and @zenewareinc
LinkedIn Profile 
~~~~~~~~~~~~~~~~~~~~~~~~~~~~~
Zenware is a Boise Idaho based company that specializes In custom mobile software development, custom iOS development, custom Android development, ipad software development, iphone software development, custom web development, web hosting and Saas based work order management software.