This morning I read a great article by Kevin Benedict about "GPS Tracking for Added Fleet Sales" . As Kevin rightly pointed out the Sears Service Vans are essentially mobile WIFI Centers that enable the service technicians to work in the field and still be tethered to the corporate via Satellite or GPRS.  Incorporating this technology has been a major boom to Sear's up sale abilities because the service technicians have "…live access to CRMs (customer relationship management) systems, customer records, warranty information and product catalogs which helps them sell more products and services at the point of work"
While Sears has gained ROI in areas they didn't expect, I'm sure they could achieve even greater ROI by incorporating solar in the fleet vehicles.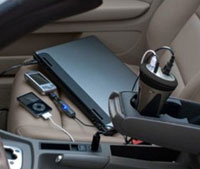 You're probably asking yourself "how does solar apply to field service technicians"?  Well with the introduction of Sun Powered MobileTM, we can provide continuous power to devices in a vehicle including Tablet PCs, PDAs, Printers, laptops and even rechargeable power tools.
In the past companies have had to either purchase extended life batteries or keep their vehicles running to keep power running to mobile devices in the vehicle.  Extended life batteries cost anywhere between $139 – $259 depending on your device. Most companies are running at least 2-3 devices in the field so the costs start to add up. Now other companies or city entities, like police agencies, keep their vehicles running to keep equipment fully charged. Think of the fuel savings organizations could reap if these devices could remain fully charged.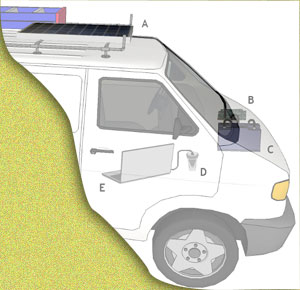 Enter SUN POWERED MOBILETM . For under $1,200 per vehicle we can keep all of the devices powered in a vehicle. It's really as simple as
A – The solar panel turns the sun's energy into DC power
B – The advanced power control unit safely conditions the electricity for storage in your battery
C – Your battery is already connected to your cigarette lighter through the fuse box
D – A standard automotive power inverter plugs into the cigarette lighter
E – Plug your mobile devices into the power inverter for a full day of data connectivity
Companies are reaping the benefits  in the following areas:
Eliminating the need to leave vehicles running during the daytime to draw power for mobile devices from the battery
Decreased fuel consumptions
Decreased harmful emissions into the atmosphere.
Fully powered equipment
Enable work on construction sites that have limited power access with a Sun Powered Mobile system on your site trailer or construction vehicle
My first question when I started looking at solar technology was "what do my guys do on a cloudy day? Are they still powered?"  The amazing thing about the new solar technology is it actually works better in diffused light settings. Your field workers are now powered all the time and ready to do business.
Author: Jody Sedrick, Zenware