Normally we blog about general mobility software topics and how they impact business.  Today I am stepping out of that and specifically writing about one business here in Boise, Idaho that stands out as a leader in customer service and quality.  That business is McDowells Specialty Repair.
Over the last few years we have had four members of our company get items repaired, a sofa, an interior car repair, an exterior dent repair and most recently I had my truck's rock chips and dents repaired. We can confidently say we get consistent service and quality every time at Mcdowells.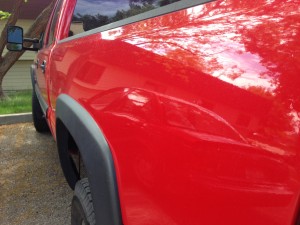 We have probably all had an experience where we had good service or quality work done but rarely do we see both at the same location.   My truck had been dinged a few times and had a bunch of rock chips.  I got an estimate and a week later they followed up to see if I was ready to get the work done, I was not ready so they thanked me anyway and we hung up.  A week later I got a new ding in the door and now I was ready to get it fixed.  Even though it was a new dent they didn't change the original estimate. They fixed it in the time they said it would be fixed and it looks great.  I can't tell where any of the dents even were and I like my truck again.
Other members of my team have had very similar experiences.  The staff are always helpful and happy to go out of there way to take care of you.  They inspect the work with you when it's done to make sure it meets your satisfaction.  I have had the opportunity to go to several customer locations with the different techs at McDowells and it's the same every time –  they will see one little thing that will make the repair better and they will do it even if they don't get more money because they know it will make the job better.
I would personally give my recommendation to anyone looking for dent repair, interior repair, or any type of furniture repair to give the great folks at McDowells a call. you will not be disappointed.
~~~~~~~~~~
Rod Puzey, COO
Follow us on Twitter: @zenwaremobile and @zenewareinc
~~~~~~~~~~~~~~~~~~~~~~~~~~~~~
Zenware is a Boise Idaho based company that specializes in custom mobile software development, custom iOS development, Android development, iPad software development, iPhone software development, custom web development, web hosting and Cloud based work order management software.