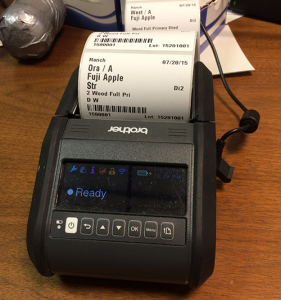 This week we ran into a little hurdle rolling out new printers for our new iPad app Harvest Bin.  A number of the orchards using our bin tracking system opted to use the Brother Rugged Jet 3150.  The development team encountered a minor hiccup as the current available drivers only supported 32 Bit.  (If you haven't heard Apple now requires 64bit Support for all iOS apps.)
A minor set back, however with a little code rework and bit of research for the 64 bit driver we are off and running.
We will also support printing to the Zebra GX420T.
Oh, and if you don't speak 64Bit and 32 Bit, that's ok we have smart guys in the back who know how to translate and how to implement it into the solution.
---

Jody Sedrick, CEO
Follow me on Twitter: @jodysedrick and @zenwareinc
LinkedIn Profile: Jodysedrick
Zenware Inc. is a Boise Idaho based company that specializes In custom mobile software development, custom iOS development, custom Android development, iPad software development, iPhone software development, custom web development, web hosting and SaaS based work order management software. We also have a powerful line up of off-the-shelf mobile cloud solutions; ZenTouch now RoadFS, and ZWarehouse