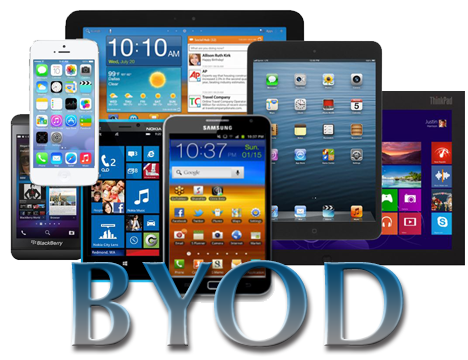 For that past 18 months I've read a lot of articles about BYOD. If you don't know BYOD means "Bring Your Own Device". Basically, BYOD provides a way for your team members to use their personal device in your business environment.
BYOD has been touted as the new way to distribute business applications and manage employee owned devices. Some tout that BYOD is equivalent to the Wild Wild West fraught with security concerns for both corporate and personal data.
My intent in this article is not to sway you in one direction for or against BYOD. But I wanted to ask the question "How many of my customers are implementing BYOD"? "How many companies have even requested BYOD"? "Why or Why Not"?
The answer….. a whopping 1.
That's right, one customer.
What is unique about him?
Enterprise Grade – Supporting multiple companies, users or divisions
He is deploying an enterprise mobile solution to multiple companies. Each of his customers (companies) have set their own mobile device standards in use by their teams. Thus, he needs a system that enables him to leverage the concepts of BYOD: distribution of applications to multiple device types, monitoring devices, control access based on user roles, etc.
Enterprise But Traditional
In talking with some of my other enterprise customers about BYOD they decided that taking the more traditional approach to mobile device management of standardizing on a set of devices is more manageable for them. Yes saving on device procurement costs was alluring. But they determined that any cost savings were offset in beefing up network security, protecting corporate data and providing monthly stipends for cellular use. Another common thread was the desire to control the types of devices that accessed their system whether it be SmartPhones, Tablets or laptops. One of the IT managers I spoke to put it this way "Knowing what I have to manage is critical to me. It's bad enough when the CEO comes in and wants to add his latest device to the network, that isn't compatible with our applications. What if I had to do that with 100 people? No Thanks!"
SMB Culture
BYOD hasn't proven a fit in the small to medium sized business where mobile devices are bundled with cellular service. The device flavor of the week is generally chosen based on the preference of the guy making the purchase with some consideration of the needs of the mobile user. Admittedly this is probably more of a cultural and educational aspect of the growth cycle of SMBs. As BYOD solutions become more of an embedded solution in products purchased by SMBs I see a shift in the adoption of BYOD since they will have built-in tools to support the BYOD decision.
What I've found is BYOD can be ideal for solution providers or enterprises that are managing multiple applications and multiple mobile devices across different business sectors or divisions.  Here are few key considerations that have proven common with my customers.

In the end as I've met with companies from diverse industry sector the decision is coming down to the personal and risk preferences of key decision makers  and the goals of each company. I'm interested to hear what you are seeing.
~~~~~~~~~~~~~~~~~~~~~~


Jody Sedrick, CEO
Follow me on Twitter: @jodysedrick and @zenwareinc
LinkedIn Profile: Jodysedrick
~~~~~~~~~~~~~~~~~~~~~~~~~~~~~
Zenware, Inc. is a Boise Idaho based company that specializes In custom mobile software development, custom iOS development, custom Android development, iPad software development, iPhone software development, custom web development, web hosting and SaaS based work order management software. We also have a powerful line up of off-the-shelf mobile cloud solutions; ZenTouch, GlassBiller and ZWarehouse