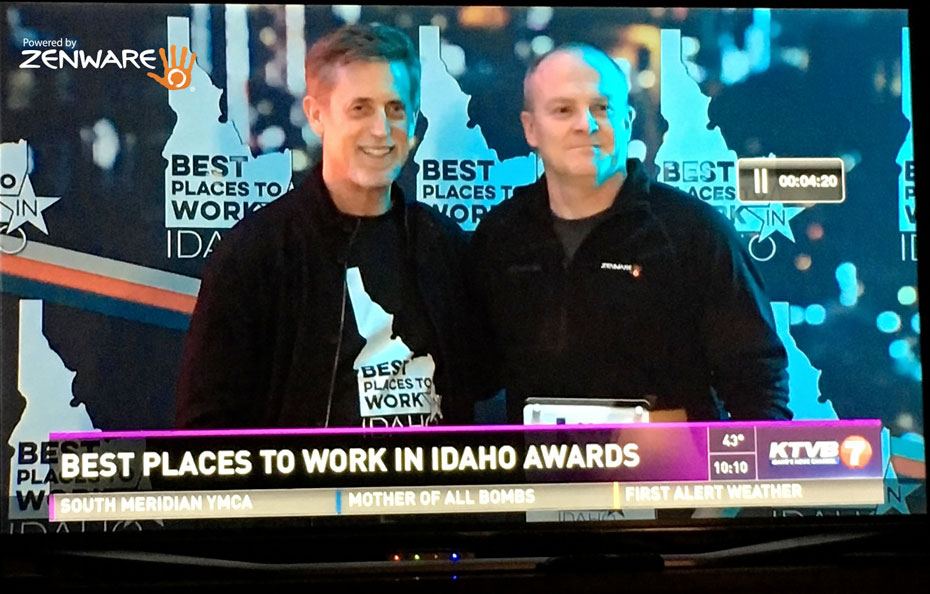 Top 10 Best Places to Work in Idaho – 5 YEARS in a ROW
Zenware has been recognized as being one of the Top 10 Best Places to work in Idaho – AGAIN!
Rod Puzey, COO of Zenware, walked into the office this morning held up the Best Places to Work in Idaho Plaque and exclaimed, "5 Years in a Row! You guys continue to make us GREAT!
A few comments from our team:
Fudo – "Where else can you have a dart gun fight then get back to work and create something awesome? I love working with our team!"
ET – "The flexibilty I have to modify my schedule is invaluable to me, especially with us having a new baby last year."
Dan – "I love not dreading coming into work. We work on such a variety of projects it make coming to work fun."
Curtis – "I love building our own products. I am constantly challenged to build something better"
We are honored to be recognized with such companies as T-Sheets, Tribute Media, Red Sky, Edward Jones, Idaho Central Credit Union, MetaGeek, CBH Homes and others. Honestly, it's on account of our team that we have such a phenomenal place to work and able to stand next to other great companies in Idaho.
The best part of "The Best Places to Work in Idaho" award is that the winners, are chosen by our own employees. The Best Places to work in Idaho Award is based an the following criteria:
Compensation and Benefits
Employee Growth and Development
Work-Life Balance
Workplace Environment
Company Management.
KUDOS to our ZTEAM. Thank you for making us one of the Best Places to Work in Idaho. Let's keep the momentum going!
Jody Sedrick, CEO
Follow me on Twitter: @jodysedrick and @zenwareinc
LinkedIn Profile: Jodysedrick
~~~~~~~~~~~~~~~~~~
Zenware Inc. is a Boise Idaho based company that specializes In custom mobile software development, custom iOS development, custom Android development, iPad software development, iPhone software development, custom web development, web hosting and SaaS based work order management software. We also have a powerful line up of off-the-shelf mobile cloud solutions; RoadFS, Harvest Point™ and ZWarehouse