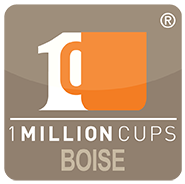 This morning we had the pleasure of presenting at 1 Million Cups Boise. What a great opportunity to get together with other local entrepreneurs to share our story!
This was the 3rd week of 1 Million Cups Boise. We presented with Jenny from Caring 411 a new software platform to help families identify and connect with health resources to better manage patient care.
If you're not familiar with the format each presenter gets six minutes, yes six minutes to tell their story with 20 minutes of questions from the audience.  Amazing what you can share in six minutes.  Yes. we highlighted some of the amazing custom software apps we've developed and then discussed our flagship product, RoadFS® and the impact we are having on field service companies using our software.
I loved the question and answer period. I gained great insight from those who attended and their questions.  A few examples:
How do you balance custom software development for customers and dedicate time to your own product?
How did you come up with the name RoadFS® and has the name translated to field service companies?
With four partners how do you balance roles and keep moving in the right direction?
How did you integrate with QuickBooks and was that a challenge?
How do you plan on targeting specific field service markets and have you identified any that you are specifically interested in pursuing?
Kudos to Trailhead for hosting the event under the direction of community organizers Jeff Reynolds, Norris Krueger, Cahill Jones, Kallen Hayes, Pat Lawless and Matt Borud. Previous 1 Million Cup Boise presenters included Proskriptive, Retrolux, Inergy and Goodwell.
I am definitely looking forward to attending 1 Million Cups Boise events in the future.  Always inspiring to hear other peoples story and journey!
Thanks for inviting me to present.
Jody Sedrick, CEO
Follow me on Twitter: @jodysedrick and @zenwareinc
LinkedIn Profile: Jodysedrick
~~~~~~~~~~~~~~~~~~
Zenware Inc. is a Boise Idaho based company that specializes In custom mobile software development, custom iOS development, custom Android development, iPad software development, iPhone software development, custom web development, web hosting and SaaS based work order management software. We also have a powerful line up of off-the-shelf mobile cloud solutions; RoadFS, and ZWarehouse