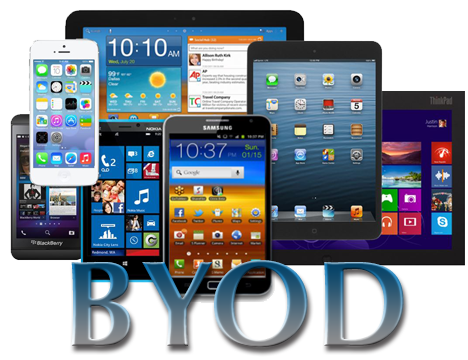 For that past 18 months I've read a lot of articles about BYOD. If you don't know BYOD means "Bring Your Own Device". Basically, BYOD provides a way for your team members to use their personal device in your business environment.
BYOD has been touted as the new way to distribute business applications and manage employee owned devices. Some tout that BYOD is equivalent to the Wild Wild West fraught with security concerns for both corporate and personal data.
My intent in this article is not to sway you in one direction for or against BYOD. But I wanted to ask the question "How many of my customers are implementing BYOD"? "How many companies have even requested BYOD"? "Why or Why Not"?
The answer….. a whopping 1.
That's right, one customer.
What is unique about him?
Enterprise Grade – Supporting multiple companies, users or divisions
He is deploying an enterprise mobile solution to multiple companies. Each of his customers (companies) have set their own mobile device standards in use by their teams. Thus, he needs a system that enables him to leverage the concepts of BYOD: distribution of applications to multiple device types, monitoring devices, control access based on user roles, etc.
Enterprise But Traditional
In talking with some of my other enterprise customers about BYOD they decided that taking the more traditional approach to mobile device management of standardizing on a set of devices is more manageable for them. Yes saving on device procurement costs was alluring. But they determined that any cost savings were offset in beefing up network security, protecting corporate data and providing monthly stipends for cellular use. Another common thread was the desire to control the types of devices that accessed their system whether it be SmartPhones, Tablets or laptops. One of the IT managers I spoke to put it this way "Knowing what I have to manage is critical to me. It's bad enough when the CEO comes in and wants to add his latest device to the network, that isn't compatible with our applications. What if I had to do that with 100 people? No Thanks!"
SMB Culture
BYOD hasn't proven a fit in the small to medium sized business where mobile devices are bundled with cellular service. The device flavor of the week is generally chosen based on the preference of the guy making the purchase with some consideration of the needs of the mobile user. Admittedly this is probably more of a cultural and educational aspect of the growth cycle of SMBs. As BYOD solutions become more of an embedded solution in products purchased by SMBs I see a shift in the adoption of BYOD since they will have built-in tools to support the BYOD decision.
What I've found is BYOD can be ideal for solution providers or enterprises that are managing multiple applications and multiple mobile devices across different business sectors or divisions.  Here are few key considerations that have proven common with my customers.

In the end as I've met with companies from diverse industry sector the decision is coming down to the personal and risk preferences of key decision makers  and the goals of each company. I'm interested to hear what you are seeing.
~~~~~~~~~~~~~~~~~~~~~~


Jody Sedrick, CEO
Follow me on Twitter: @jodysedrick and @zenwareinc
LinkedIn Profile: Jodysedrick
~~~~~~~~~~~~~~~~~~~~~~~~~~~~~
Zenware, Inc. is a Boise Idaho based company that specializes In custom mobile software development, custom iOS development, custom Android development, iPad software development, iPhone software development, custom web development, web hosting and SaaS based work order management software. We also have a powerful line up of off-the-shelf mobile cloud solutions; ZenTouch, GlassBiller and ZWarehouse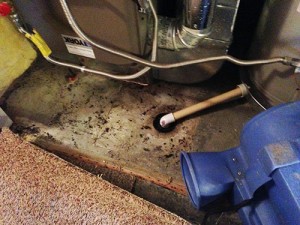 For the 2nd time in 6 months I've called the professionals at Disaster Kleenup. Let's just say weekend plans change when basements start to fill with water. As I write the hum of drying fans and humidifiers drone like the constant white noise of a jet plane about to take off.
When the disaster recovery team came in they were ready for business. The whole time I'm watching them bring in hoses, fans and other equipment two things kept going through my mind. One, I hope insurance covers this. Two, why aren't these guys using mobile devices?
Yep you know the familiar scene, the project lead pulled out the trusty old clipboard, collected my information, asked me to review and sign some microbial and hazardous content documents, then recorded each of the fans and humidifiers that were left behind to dry out my house.
I thought to myself this could be so much easier.
The same team of guys were at my house 3 months ago. How much easier would it have been for them to pull out there mobile device and do the following?
Open a work order
Search for my information by address or name.
See that they had done previous work.
Review that work if applicable
Add me to the work order
Pull up PDF or web based docs that need to be reviewed and signed.
Capture a date/time and signature that I'd reviewed and accepted the documents
Select the type of work from a selection menu
Scan or digitally record the equipment number and starting hours of each piece of equipment being left at my house.
Save all of this information and send directly to the office and insurance claim agent simultaneously
No paperwork, no searching for a pencil, just a mobile device and your fingers.
Equipment Tracking
The importance of proper equipment tracking came to bear when at 11:30 at night I went downstairs and turned off all the fans because the kids couldn't sleep due to the noisy jet stream filling our home.  Turning off the fans is when I noticed each fan was equipped with an hour counter.  Tracking equipment hours  of time on site versus actual time utilized I thought was an important business factor that a service company might want to capture. A service company might choose to charge differently for each of these usage types. Comparing time on site versus actual equipment usage also informs the service company, like in my case, if the customer had turned off the equipment. No I wasn't tampering, I just needed to get the kids to sleep.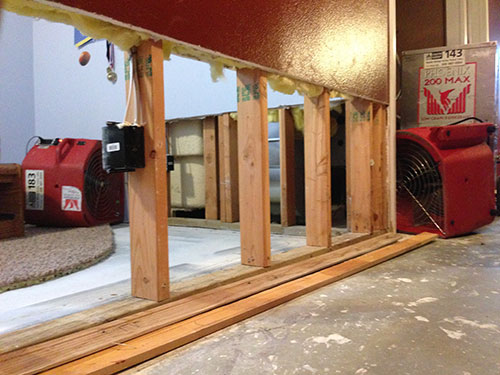 Assigning equipment to a customer location provides another benefit. You know the last known location of that equipment. When's the last time you drilled your service team looking for a piece of equipment?  I know one construction company, Specialty Construction Supply who uses ZenTouch, assigns road signage to construction jobs.  Not only can they charge per hour the signs are on site, they also know where to return for specific equipment if they need to move it to a new site.  This has saved them thousands of dollars in lost equipment.
Past Service Work
When the project lead entered my house he instantly remembered he had done some mold remediation but couldn't remember everything that had been done before.  Needing this information he called into the office to have the dispatcher look up the specifics of the past visit.  While it wasn't specifically relevant to the current job he quickly noted previous work and gave some additional instructions to his team.  How much easier it would have been to open a mobile service app, look up my information and review all service work that had been done previously?
Service Over Time
The project lead is scheduled for a return visit today to see how my basement is drying out.  While my home repairs won't be a large project, it easily could've been.
Having a mobile solution like ZenTouch with the ability to track an open job ticket seems critical to me. A service tech could track each visit, record new work, track hours of equipment usage, time on-site, travel times etc. This would enable a service company to dynamically manage jobs and invoice certain aspects of a job along the way if applicable.
These may seem like little things. But I've learned that the moment you start paying attention to the "little things" and implementing solution to nullify or eliminated their impact not only do you create competitive differentiation but improve your bottom line.

~~~~~~~~~~
Jody Sedrick, CEO
Follow me on Twitter: @jodysedrick and @zenwareinc
LinkedIn Profile: Jodysedrick
~~~~~~~~~~~~~~~~~~~~~~~~~~~~~
Zenware, Inc. is a Boise Idaho based company that specializes In custom mobile software development, custom iOS development, custom Android development, iPad software development, iPhone software development, custom web development, web hosting and SaaS based work order management software. We also have a powerful line up of off-the-shelf mobile cloud solutions; ZenTouch, GlassBiller and ZWarehouse
Mobile Tech Expo 2014 hit it out of the park this past week. Kevin Halewood moved the expo to a bigger, nicer venue; The Caribe Royale in Orlando Florida. The larger venue allowed for 30% additional vendors to participate. We also saw a similar increase in auto recon pros attending making for a very busy, high energy event.
The Expo had a great line up of educational seminars. We popped in and out of the packed seminars to get an idea of the attendance.  New this year were a number of seminars hosted in Spanish for Spanish speaking auto recon pros. Always popular were seminars hosted by Mike Phillips of Autogeek.net and Renny Doyle of Detailing Success.


Attendees were not only looking for tools and techniques to improve their skills. They also sought business solutions to better manage their business and field service crews as exemplified by all three of the mobile business solutions seminars having packed rooms. YEAH – you could say mobile solutions is a HOT topic!
Six master Auto Detailers, Bob Phillips, Jim Lafeber, Richard Lin, Jason Rose, Scotty Perkins, and Renny Doyle, gathered to discuss the show, industry trends, new technologies and more in their live podcast. If you are an auto detailer you will not want to miss this podcast. 
AMMO NYC – 6 Master Detailers: Mobile Tech Expo 2014

Thank you to all those that stopped by our booth to take a look at ZenTouch. We had a steady stream of visitors – all looking for a mobile field service solution to better manage their business. What a great opportunity to "sit down" with you to discuss your business challenges, goals for 2014 and how ZenTouch can streamline the business process.
On the selfish side it was also great to flee 20 degrees and snow to escape to Orlando for 3 days. While it rained off and on, temps hovered in the mid 70′s making for a great trip.
We look forward to working with those of you who are coming on board this year with ZenTouch.  We'll see you next year at Mobile Tech Expo 2015.

~~~~~~~~~~
Jody Sedrick, CEO
Follow me on Twitter: @jodysedrick and @zenwareinc
LinkedIn Profile
~~~~~~~~~~~~~~~~~~~~~~~~~~~~~
Zenware is a Boise Idaho based company that specializes In custom mobile software development, custom iOS development, custom Android development, iPad software development, iPhone software development, custom web development, web hosting and SaaS based work order management software. We also have a powerful line up of off-the-shelf mobile cloud solutions; ZenTouch, GlassBiller and Zenwarehouse